A Glance of the Play School: Brain Discovery Global School
Play School with Classes: Toddler, Pre-nursery, Nursery & Kindergarten
Number of Students: 150 Plus Students
Advanced Curriculum: Preschool provides Child-centric Curriculum
Creative Teaching Pedagogy: Play School performs methods of Teaching to enhance Kid's Creativity
Teachers to Student Ratio Toddler Class: 1:10 (With 1 Support Staff)
Teachers to Student Ratio Pre-Nursery Class: 1:10
Teachers to Student Ratio Nursery Class: 1:10
Teachers to Student Ratio Kindergarten Class: 1:20 (One Support Staff)
Day Care Facilities: Pre-School with Day Care Facilities
Environment: Safe & Secure Environment
Bag-less Play School: Yes, our Preschool is Completely Bag-less
The uniqueness of School: We identify & enhance Dominant Intelligence of Kids
Infrastructure: Child-Friendly Infrastructure
Holistic Approach of Teaching: All-round Development of Kids
Preschool Location: IGNOU Road, South Delhi (Near Saket Metro)
After School Programs: Music Class, Dance Class, Yoga Class, Abacus Class, English Speaking, Taekwondo
Healthy & Hygienic Meals: The Food Quality & taste is par beyond excellence
Pick & Drop Facility: Our Preschool provides pick-up & Drop Facility to Students
Sports Equipments: We perform indoor & Outdoor Activities for Child's Development
Newsletter: We provide Newsletter to Parents for Daily Updates
Admission Open Session: The year 2020-21
Extra-Curricular Activities: Sports, Music, Dance, Drawing
Collaborative Learning: Group Activities by Kids
Highly Qualified Faculty: All teachers of BDGS are well qualified & Trained
Highly Qualified Staff: Our preschool staff are trained & skilled
Analytical Skill Enhancement: BDGS Preschool enhances Child's Analytical skills through various activities
Learning Environment: Our Teachers provide a learning environment to the Child
Academic Skills Enhancement: We Nurture & Encourage your Child's Academic Abilities
Admission Procedure: There is an Easy process of Admission in our Play School
No Entrance Exams Required: As per Govt. Norms, no entrance exams are required for Kid's Admission
Circle Time Activities: We performs activities for improving Child's concentration & Muscles strengthening
Child's Physical Development: Gross Motor & Fine Motor Development
Child's Emotional Development: Worksheets are prepared with Visual Images
Child's Social Development: Preschool performs Group activities & Circle Time Activity
Number of Students Passed: 5000+
Play School Run by:  Ex DPS Principals & Doctors
Number of Play Schools: 10+
Locations of Preschools: New Delhi, Noida, Ghaziabad, Faridabad, Gurugram, Uttarakhand
Teaching Methodology of our Play School
We believe that "It's not about what you teach, it is about what a Child Learns". Brain Discovery Global School works on identifying and enhancing Child's dominant Intelligence. The Pre-school emphasis on physical development, emotional development as well as social development.
Learning Environment in Preschool for Child's Development
"After all, what is the goal when you send your little child to the preschool? Certainly not to prove, "Who is the Boss"? But to Discover the learning style, enhance and make the Pathway to Wisdom a joyful journey and to help the child develop into a decent, self-confident human being. Ther is only 1set of each material; if another child wants to do the same activity it will have to wait and this teaches patience.
Our Advanced Preschool Curriculum
The advanced curriculum of our preschool integrates all areas of development of a child which are social learning, emotional learning, physical learning, and spiritual learning are as important cerebral learning. The preschool makes an effort to establish a safe, secure, and predictable environment of learning. The curriculum of our pre-school is based on the belief that "Every Child is Born genius".
Our Curriculum Priorities include the development of a good human being by providing a joyful & good learning environment with real-life competencies which will lead to academic excellence.
Class style: "Nothing is extracurricular, everything that a child learns within the school hours is a part of the curriculum".
✅  Maintain body posture during the learning
✅ Muti age classes in our Preschool
✅ Different Furniture for different learning objectives
✅ Table & chair during the group activity
✅ Pillow & mattress Activity during the storytime
Circle Time Activity for Child's Brain Development
Circle time activities are performed for better fine & gross motor skills development of child,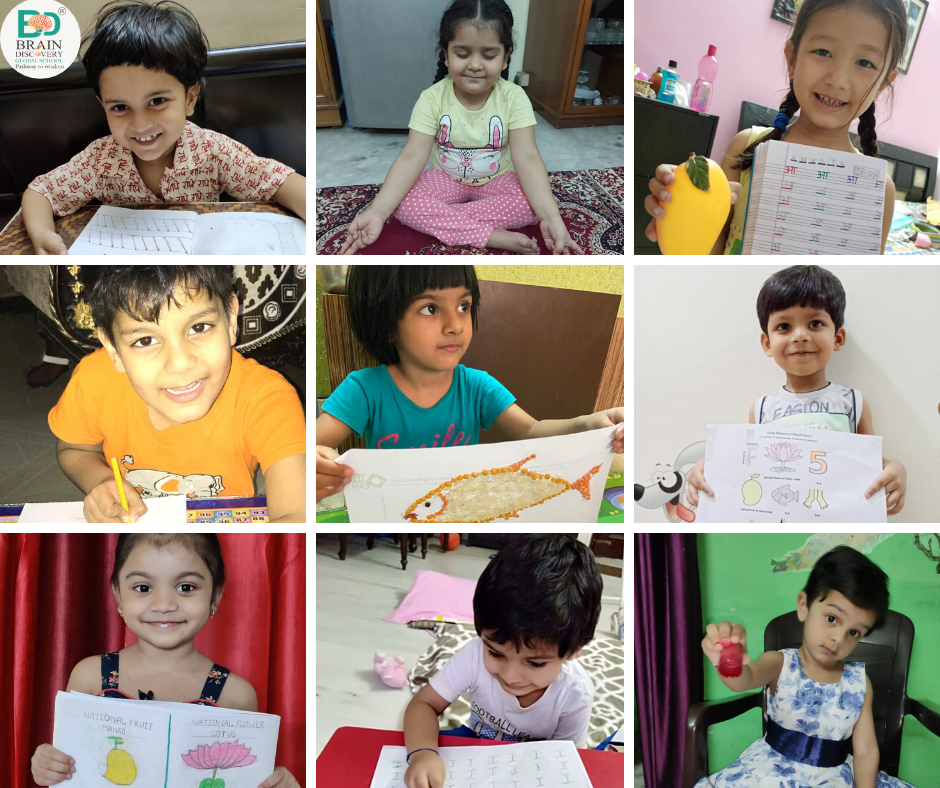 Hand-eye coordination development, improving the concentration of the child, strengthening muscles, and help in memory retention.
Circle time activities include:
✅ Stacking Blocks
✅ Learning with Real Objects
✅ Learning with Transfer Objects
✅ Learning to be Self-reliant
✅ Feeling the Strokes of Letters
Conclusion
If you are Looking for your Child's Educational Journey?
Which is the best play school?
Best play school near me?
Then this blog will help you in finding out the best school near your location. Brain Discovery Global School is amongst the top 10 Play School in Delhi and it is the best play school in South Delhi.
Get your Child's Admission in a Bag-less Preschool with:
✅ Safe & Secure Environment
✅ Advanced Curriculum for Brain Development
✅ Day-Care Facilities are available
✅ Innovative Teaching Methods
✅ World Class Infrastructure
✅ Collaborative Learning
✅ Pick-up & Drop Facility
✅ Live Streaming Camera
✅ 100% Nutritious & Healthy Meals
Apply Now! for admission & all-round development of your child. If you have any queries related to admission in the top Play School in South Delhi then you can visit our FAQ Page.